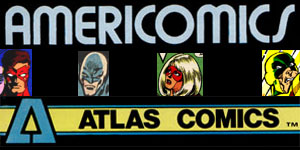 A newcomer on the toy scene, Little People Productions re-introduces this generation to some classic comic characters from the now defunct Atlas Comics as well as Americomics. Finally, beloved characters such as Captain Paragon, the Scorpion, Ms. Victory and Captain Freedom are brought to plastic. These figures are in scale with Hasbro's JLA line and Toy Biz's popular X-Men line. The first wave of figures all appear in their early costumes taken directly from the comics. The folks at Little People Productions claim that they are "all about accurate reproduction," no strange variations of "Hot Pants Ms. Victory" or "Underwater Scorpion" for this new company. The pictures below are painted prototypes, not production pieces. We had lots of wheedling to do just to get these pictures!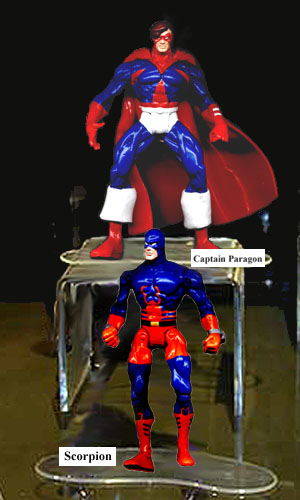 Captain Paragon stands in his red, white and blue glory on the top pedestal. Captain Paragon hails from Americomics. Just below him stands the Scorpion from Atlas Comics. The Little People Production reps claimed that they were going to make a string shoot out of his wrist cuff, but ran into many of the same problems as Kenner did once upon a time with their early Boba Fett figure.
Ms. Victory stands on the top pedestal. Shown in an early costume, the reps hinted that we might see later incarnations of Ms. Victory in a later wave. Certainly encouraging to us was the news that she would not be short-packed and that the company intends to release at least one female figure per wave. Below Ms. Victory is Captain Freedom, both characters from Americomics.


pictures ©2000
the little computer people
characters © Americomics and Atlas Comics