DC Direct expands on its' best-selling Starman action figure by bringing you some of Opal City's finest! A DC Comics location in the tradition of Gotham City and Metropolis, Opal City boasts its' own resident circle of heroes. In an unprecedented 10-figure wave consisting of 5 two-packs DC releases some of their greatest heroes in the "Protectors of Opal." Not shown here is the Diamond exclusive boxed set "The O'Dares." Also planned is a followup series for next year "Scourges of Opal"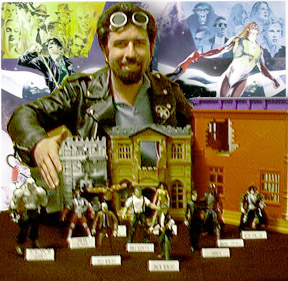 Here Jack Knight, Opal's premier hero, introduces the collection of figures at CustomCon 2000.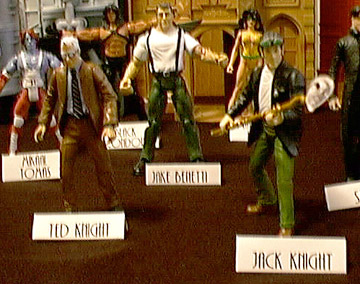 Leading off the lineup is the "Knights of the City" two-pack featuring Jack and his father Ted Knight, the Original Starman.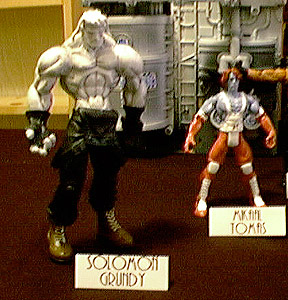 Next up is "The Blue and the Grey" pack with Solomon Grundy and Mikaal Tomas, the alien Starman from the 1970's.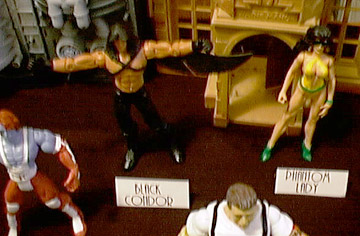 Here are two of the modern-day counterparts of members of the "Freedom Fighters" Black Condor and Phantom Lady.
Former villains Jake "Bobo" Benetti and the Shade are now acting "On the Side of the Angels."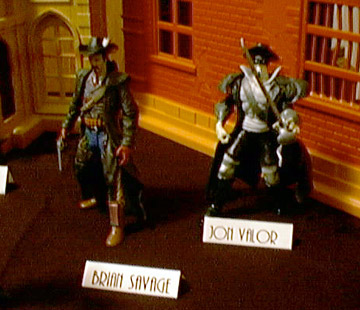 "Times Past" features Brian Savage, once called Scalphunter, and the ghost of Jon Valor, the Black Pirate.