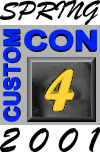 They said it couldn't be done; they said it shouldn't be done; but it's been done. After almost five years the Universe will be changed forever. The Amalgam Universe that is.
Coming off the success of its last major toy relaunch Myers' Farms is proud to present the toy line you never thought you would see. "The Amalgam Age".
Myers' Farms won popularity last year with its Super Powers Super Series, which featured all new sculpts of DC Comics Classic and Modern Heroes and Villains subtly made with both Hasbro and Toy Biz parts.
The series will feature all the heavy hitters from the fan-loved series including Super-Soldier, Dark Claw and Iron Lantern, as-well-as fan-loathed villains Green Skull and Bizarnage.
The series is slated to include three waves of figures to begin featuring four heroes and one villain in each wave with deluxe figures and special three packs, which will offer never before, offered figures. Also slated is a special Toy Fare direct Lobo The Duck figure with light-up cigar and removable chains. A Myers' Farms first!
Wave Two:
Bruce Wayne: Agent of S.H.I.E.L.D.
Angelhawk
Magneto
Nickel