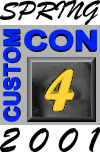 All of the Amalgam figures were made by Mark Myers.
Check out Mark's website!
Deluxe Figure Assortment:
Speed Demon - The vengeance of the Speed Force is a repainted "Vengeance" figure from the Ghost Rider line. Details, such as the horns, were removed then cut-to-size and repositioned. The wrist spikes are from a "Quick Change" Ghost Rider figure. Glow in the Dark paint was used throughout the figure to create an eerie effect.
Kid Demon with Flaming Cycle - A first edition Ghost Rider figure served as the base with leg details cut from a Secret Wars "Doctor Doom." The gap in the leg band was filled in w/Sculpey. The Flaming Cycle is from the same series, and included a different Ghost Rider figure.