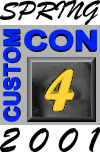 Return of the Joker toys?
As many fans have noticed, when the HASBRO figures for the BATMAN BEYOND: Return of the Joker direct-to-video movie were released, the line consisted of merely redecorated versions of previously released figures. Only one figure was actually from the Batman Beyond timeline: Batman himself.
"I agree, it was a rather low quality move on our part", said the Hasbro Representative at the special Customcon 4 exclusive showing, "but our hand was forced by WB Kid's, actually. As you probably know, the Return of the Joker movie underwent extensive censorship at the last moment and its release was severely delayed, so WB told us that we had to coordinate our plans to their new ones. They didn't want to spoil the movie, and so they said we couldn't release anything based on the film until after it had made its way to shelves. We were stuck in a rut, basically, and we did the best possible thing we could do at that point in time. Rerelease older figures."
So there you have it, from the horse's mouth. So were there other plans for Return of the Joker? It turns out that Hasbro did have something in the works. Customcon 4 is proud to present you with an exclusive look at Return of the Joker toys!
The Return of the Joker line consists of a line-up fans have been dreaming for. "The second we saw the design sketches for the Joker's henchmen we knew they'd hit it big with the fans", says the Hasbro Rep "Originally we had planned to ship the initial redecorated assortment out and wait for the video to arrive. Unfortunately, WB hardly even bothered to push the film, and it got less publicity than we hoped for."
The good news is that the figures may still yet see the light of day. Plans are underway to repackage what were originally intended to be individual figures in store exclusive sets. "The 4 packs that we have been releasing have been popular, especially with collectors. They say it's a good way to fill holes in their collection, and we're listening. If all goes well, you'll see some heavily requested fan-favourites in retail stores soon."
In fact, the plans for the Return of the Joker line are now for 2 packs of 4, and a 2 pack. If all goes well, there will be a wave with some individually packaged figures, a couple of 2 packs, and even two playsets. Tentative plans have the the first wave as follows:
Wave 1:
-Secret Identity Terry McGinnis
-the Joker
-Ghoul
-Bonk
Dee Dee twin pack:
-Delia & Deidre
Here's our promised exclusive look at sneakpeek pics of wave 1 and the Dee Dee 2 pack!
Wave 1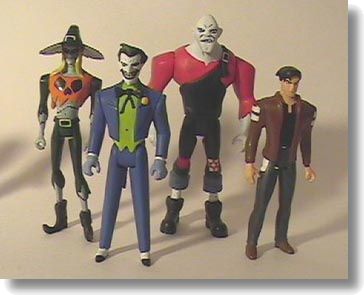 Individual shots:
Terry McGinnis
The Joker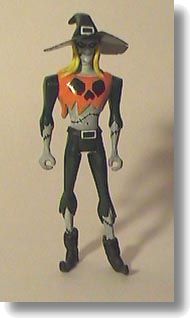 Ghoul
Bonk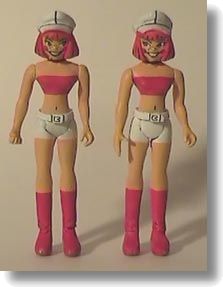 Dee Dee twin-pack
Many thanks to our photographer Fred Jr!