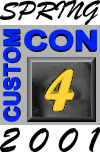 Heroes of the 80's!
New from Metztoys: 8" collector's figures based on two of the most popular cartoons of the 80's. Fully articulated with cloth costumes and accessories, these Mego-like figures are an answer to the wave of 80's nostalgia sweeping the collector's market.
First up, hot on the heels of the recent Mattel re-releases, comes He-Man and the Masters of the Universe. The first assortment features He-Man, Teela, Man-at-Arms, Fisto, Ram-Man, and the evil double menace of Skeletor and King Hiss.
The 80's live again!