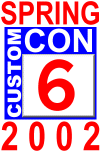 DC's grimmest heroes and villains come to horrific life in McFarlane toy's "DC: The Dark Side."
Sculptor Jason "Firefly" Baxter had a word with an interviewer:
"DC Direct has been putting out a great line of heroes and villains from the DC Universe. The problem is, the majority of them are golden age heroes, and only collectors and these so-called customizers are buying them. The line is obviously a success, not to mention fantastic with great sculpts and characters."
"We were ready to release a more modern line featuring some of the more popular grim n' gritty superheroes, hoping it will sell better. We really wanted to take the DC Universe in a whole new direction, and we chose to work through McFarlane. Their dark vision of the DCU will be excellent." said a DC Direct rep.
DC chose the characters they wanted in the line, and they based some of their decisions on the hot-selling Dark Knight Strikes Again. "We wanted to bank on the success of the comic through the line. But we're saving actual DKSA figures for DC Direct. We want to keep that out of the main line. McFarlane will be making Dark Knight Returns figures for us."
DC also added violent vigilante Azrael to the line at the last minute. "He's always been a great character, but his comic hasn't been a success in quite some time. We're hoping the figure will make some kids interested."