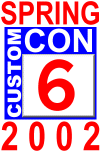 The newly formed Mach Fun Toy Company made a daring move when they decided to pick up the Speed Racer license where ReSaurus left off. They were not, however, without a plan. Spokesperson for the company, Rudolph Elegantor, had this to say " We want to help fans celebrate Speed's 35th Anniversary. We plan on making a line of Speed Racer inter-active figures to rival that of Playmates' Simpsons line and a series of vehicles loaded with action features and sounds from the show!" Nostalgia sells. Presenting the latest offerings from Mach Fun Toys. Last year we saw series 3 and 4 action figures now feast your eyes on Speed Racer Series 5!
From left to right they are: Kadar, Kim Jugger, Mom Racer, Ace Ducey and X.
Kadar comes with removable helmet, treasure chest and a hand gun.
Prince Jugger comes with his Black Tiger race car and a bag of scorpions ( not shown:)
Mom Racer includes cookies, serving tray, her favorite white roses and interactive base which will work with future playsets. She has an incredible 2 points of articulation.
Ace Ducey comes with sniper rifle and a scarf.
Champion X comes with his tricked out number 4 car, alternate head of Gadge Zoomer and his son Gizmo (not shown).
Product and color may vary.