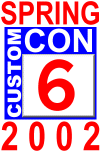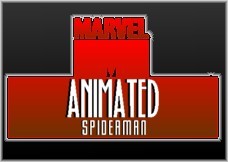 Toybiz and Hasbro join together to bring us Marvel Animated, a line designed to fit in with Batman Animated figures.
They have brought in an outside design company, Battlehammer Creations, and asked Bruenor, one of their designers, to work on the line.
Here you will see the finished first wave consisting of:
Spiderman
:
The main figure of the wave is in his original red and blues and will come with a web net and a web backpack (not available at time of photo shoot)
Black Costume Spiderman
:
This is a short packed variant of Spiderman, it will also come with the same accessories as the red and blue Spiderman.
Black Cat
:
Comes with real fur glove and boot cuffs and a cat claw climbing rope (N/A at time of shoot).
Doctor Octopus
:
The main villain and leader, comes with multiposable tentacles and a briefcase loaded with gold.
Vulture
:
Comes with ball jointed shoulders so the wings can be posed for "flying" and three money bags.
Mysterio
:
Comes with a clear globe as the head, gold bars and hypno mist (non toxic)
Venom
:
Comes with "Spider Smash" throwing action.
In a return to toy premiums of old, the Animated Spiderman line from BattleHammer Creations is offering this Mangaverse Spidey figure as a mail away premium to all those who send in two proofs of purchase (from any Spidey Animated figure) plus $2.99 for shipping.
Pierre (who worked for BattleHammer Creations to produce this figure) says: "Well, we figured this character probably isn't really popular enough to warrant a general release. But, we thought it was a neat character that some people might like to add to their collections. Offering it as a mail away premium allows us to get it out there with out risking having it rot on the pegs due to wide spread lack of interest."