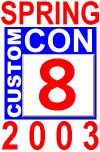 Ally McBeal
By Strange Mark Studios
Since taking over from Buffy.fan Inc, Strange Mark Studios have been branching further into the world of licensed products, having already signed a deal with Mattel to produce Huntress figures fro the DC series, Strange Mark Studios return to the old Buffy.fan Inc tradition of obscure television shows that you would never expect to see in plastic, with their new range, "The Friends of Ally McBeal" based on the once popular TV show Ally McBeal.
The original plan for this line was a straightforward action figure range based on the main characters from the series. However, the approval system got in the way, and S.M.S. were unable to produce the shows star, Ally McBeal herself. Instead of canceling the line completely as many would have done, the guys at S.M.S. decided to press on and produce the remaining planned action figures without Ally.
Leading this new wave of figures are the senior partners of law firm Cage And Fish, John Cage and Richard Fish themselves, played by Peter MacNicol and Greg Germann shown here in full plastic glory.
Accompanying the partners is Cage And Fish associate, Nelle (or should we say "Morgan?") Porter, as played by the talented Portia di Rossi. Our very own little plastic Nelle is seen here in an outfit from the shows fifth and final season.
Rounding out this first wave is Ally's best friend from season 1-4, Renee, played by Lisa Nicole Carson.
Each figure is approximately 6" tall, and packaged on an Ally McBeal blister card, with all the accessories you could hope for! Look out for further "Friends of Ally McBeal" and maybe even the woman herself in the future from Strange Mark Studios!