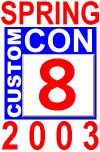 G.I. Joe: True Grit
by Dave Laurente.
Visit Dave Laurente's Web Site.
Duke
head-2002 Blowtorch sculpted on hair
arms, lower legs,chest,waist- 2002 Duke
upper legs-2002 Tunnel Rat
gun-1984 Ripcord figure
various other BBI figure pouches and holster

Firefly
chest-2002 Dusty
rest of the figure 2002 Firefly
gun-modified Beachhead gun
various other BBI figure pouches and holster

Flint
head,arms,waist-2002 Flint
chest,legs-2002 Stalker
various parts of BBI figure pouches

Alexander McCullen as Destro
head, arms, chest-2001 Destro
waist-2002 Dusty
upper legs-2002 Duke
lower legs-2002 Flint sculpted on details on head, chest and boots

Recondco
Entire figure-2002 Recondo
hat-1984 Recondo
gun-BBI figure
various parts of BBI figure for pouches and knife

Shipwreck
entire figure 2002 Shipwreck except for lower arms 2002 Duke
holster-combination of BBI figure parts
shortened figure and gave him swivel joints right above the cuffs of his pants. sculpted on details to his head

Torpedo
entire figure 2002 Torpedo
air tank-BBI figure
thinned out figures face to trim him down a bit. added articulation at both wrists. gave figure an overall repaint

Tunnel Rat
head,upper arms, chest, waist-2002 Tunnel Rat
lower arms-2002 Dusty
hands-BBI figure
upper legs-2002 Wild Bill
lower legs-2002 Dusty thinned out figures head as with Torpedo and added the wrist articulation as mentioned. Than gave figure overall repaint.