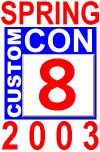 If you've seen the coverage of the International Toy Fair 2003, you will have seen Palisades' fantastic new Witchblade Animated action figures. Well Custom Con is proud to show you this brilliant new second wave of animated style characters from the Top Cow Universe!
Opening this line is former Witchblade artist, Michael Turner's creation, the beautiful Aspen Matthews, star of the monthly Fathom series.
Accompanying Aspen is Ian Nottingham... wielding Excalibur, the male equivalent of the Witchblade! Nottingham here marks the line branching into supporting characters from the monthly Witchblade series.
To accompany Sara Pezzinni is Jake McCarthy, Sara's cop partner, rounds out this second wave of Witchblade Animated action figures from Palisades.