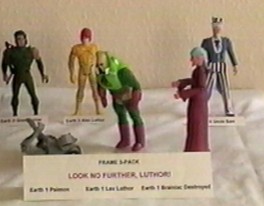 All of the figures in the Crisis on Infinite Earths line are made by Tim Priebe.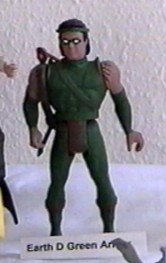 Earth D Green Arrow was made from a Kevin Costner Robin Hood figure. Oddly enough, Kenner used a SP Green Arrow body for that figure! The bow and arrow are from a Mulan playset.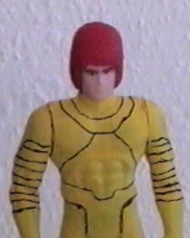 Alex was made from a World of Batman Robin figure, with the head from a SMOS Superboy figure. I dremelled off all the details from Robin (except the gloves and sleeves), sculpted the hair, and painted him. The lines on his armor were made with a Sharpie marker.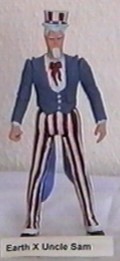 Uncle Sam was made using a World of Batman Joker figure, with a World of Batman Bruce Wayne head and a SP Penguin hat. the goatee was sculpted on.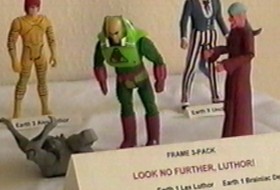 Incidentally, all the titles of the 3-Packs are actually quotes taken from the issue the scenes appeared in.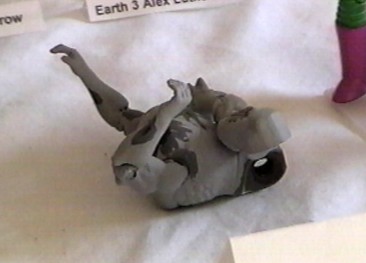 Brainiac was the torso from some Spiderman figure from the Scarecrow 5-pack, and the leg of a SP Brainiac figure.
Psimon was complicated. The lower half of his body was made from an Emperor Palpatine. The upper half, including the arms, were from a Mary Jane figure. The head was from a World of Batman Joker figure, with the brain-dome and pony-tail sculpted on. The sleeves were also sculpted on. Sculpey was also used to make the Palpaltine figure flow into the Mary Jane figure. Not easy, but worth it!
Lex used the body of a SP Lex Luthor, with the head of a JLA boxed set Lex Luthor. I painted some details onto the armor that were not originally there, and just a little on the body of the figure itself.
These packages are awesome, IMHO! I designed the cards on the computer, and then had my wife mount the print-outs on board for me. The cards are the same for every figure on the front. I printed the actual cards at Kinko's, but the names of the figures that are on the bubbles are printed on my computer.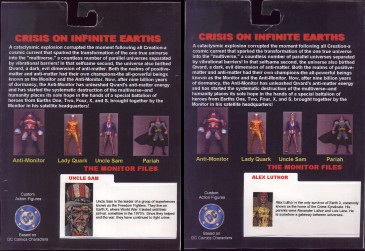 The backs of the figures are all the same except for the Monitor Files, which I also print out on my computer.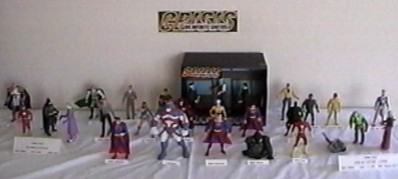 Here's a final shot of the Crisis table! I sure had a lot of fun making these 29 figures, and plan to make many more!