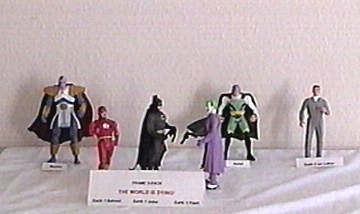 All of the figures in the Crisis on Infinite Earths line are made by Tim Priebe.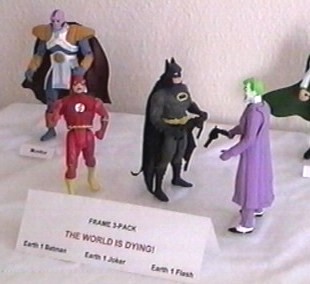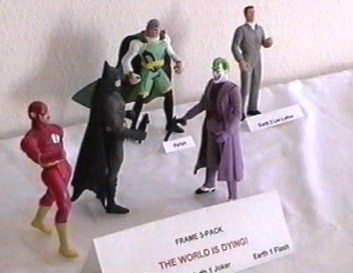 I got the idea for 3-packs from the Star Wars 3-packs that Hasbro made. Flash was made from a SP Flash. Batman was one of the World of Batman figures, and Joker is a World of Batman Plasma Glow Joker. His trench coat is actually the cloak from a SW Emperor Palpatine figure.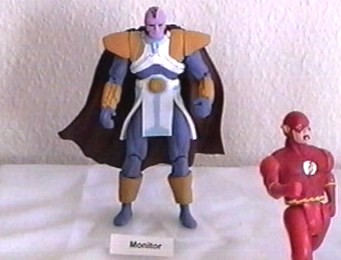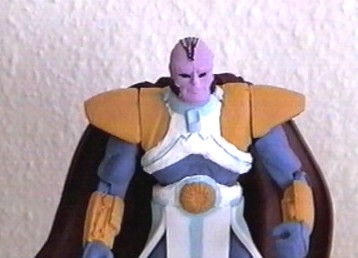 The monitor is a mesh of parts. His head is from a SP Martian Manhunter, with threads for the hair, and sculpey for the facial hair. The torso and arms are from some Spiderman figure, with sculpey details on the chest and for the belt. The legs are from another Spiderman figure, with sculpey for the boot cuffs. The "skirt" is actually craft foam. There's no telling where the cape is from. Oh, it's not black, as it looks here, but actually dark red.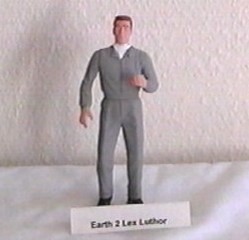 Lex was made from a Nascar Driver with some Lost World head.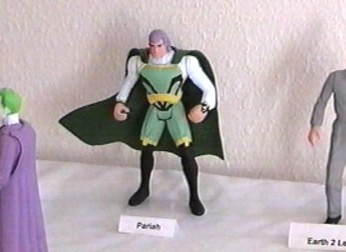 Pariah was another complicated custom. The head's from a SMOS Laser Superman. The body is from some Misc. Batman figure, with the collar, breastplate and belt sculpted on. The middle of each arm is from a Anastasia figure, and the hands and shoulder are from the same Batman figure as before. The cape's from a SMOS Steel.