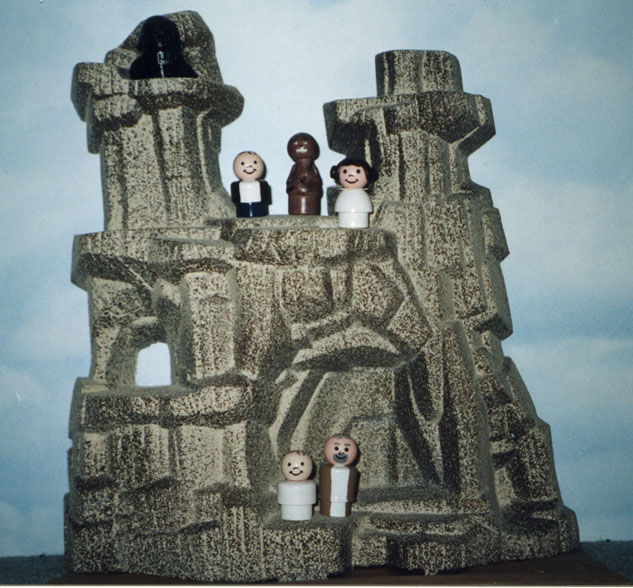 That's right, Fisher Price managed to lay claim to the tiny tikes portion of the Star Wars license! Fisher Price rushed these production pieces to the con, but wouldn't allow us to take any pictures of the playset prototypes. Suffice it to say that besides a complete rundown of popular characters, we'll be seeing plenty of vehicles and playsets later on. Right now, they have a Tatooine home planned (very nice design) which comes complete with Aunt Beru and Uncle Owen! Why didn't Kenner think of this? The landspeeder prototype was looking nice, but they claimed that the Millenium Falcon playset will put everything else to shame.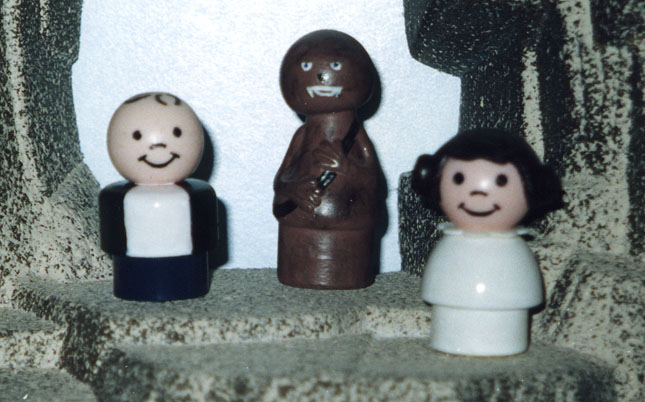 Here's a close-up of Han Solo, Chewie and the princess.
And a close-up of Luke and Ben.
And the ever popular villain, Darth Vader. Darth was only a prototype, but in the fashion of some of their later pieces, Fisher Price reps assured us that the paint job for his details is actually machine stamped into the plastic instead of blown on, much like the hair on the "little boy" figures. This should make for a really sturdy paint job, able to stand up to toddler drool! What's hard to see in this photo is the sculpting of the mask. Really nice!


pictures ©2000
the little computer people
characters © George Lucas