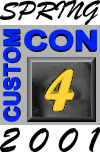 All of the Amalgam figures were made by Mark Myers.
Check out Mark's website!
Wave One:
Super Soldier - Super-Soldier started as an "Archangel" figure from the X-Men Battle Brigade line. The wings were removed, and boot tops were added using Sculpey. The shield was made from Paper Clay. The red details were cut from a copy of the cover I made coated in red paint, then sealed with Sculpey glaze. The Shield is attached to Super-Soldier's arm with cuffs from a Heat Scan Batman accessory.
Iron Lantern - Iron Lantern started as an Iron Man "Samurai Armor Iron Man" figure. The armor was removed and then Paper Clay details were added for the boot tops, wrist gauntlets and Lantern logo on his chest. Side details were added from a plumbing supply kit.
Dark Claw - Dark Claw Started as a "Battle Armor Wolverine" from the X-Men Mutant Armor Series. The armor was removed and the details were both cut out and added on with Paper Clay. The claws are ends of dental toothpicks, held in place by Paper Clay. The cape is made from Sculpey.
Dr. Strangefate - The good doctor and resident mystic in the Amalgam universe is a simply a repainted "Dr. Strange" with a recast head from a Super Powers "Dr. Fate" figure. The "Enchanted Long Staff" is a gold/bronze painted drink stirrer.
Green Skull - Green Skull is a combination of a "Stealth Armor Iron Man" and the head from a "Quick Change" Ghost Rider figure with flame details removed and plumber's putty added. The cloak/overcoat/cape comes from a "Blackout" figure, also from the Ghost Rider series. The gun was an accessory packaged with the "Stealth Armor Iron Man."