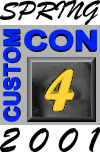 All of the Batman Beyond Wave 2 figures were made by Dare.
I'd say this picture basically explains most of it.
JOKER: like so many before me, Batman TNA Creeper, and Sculpey. Head made from scratch.
CHUCKO: Some Hasbro Wrestler fella, and Sculpey. Head made from scratch.
WOOF: OK, this one' s a bit tricky. The torso and arms are based on a Burger King Small Soldiers toy (The crazy purple fella), with legs from Pip the troll from the animated Silver Surfer line.Lots of sanding and Sculpey helped to cover things up a bit. Head was a challenge to make from scratch.
BRUCE WAYNE: A late addition to the line-up. I didn't think the usual method of using a TNA Bruce worked very well. This one uses a regular TNA Batman torso, with arms and legs from a Tuxedo Dimitri from the Anastasia line. I bought that wanting to do Alfred, but since Hasbro covered that ground, his parts were generously donated to Bruce. The head is from scratch too, with a built up neck so it leans further out. I built up a slight hump on his back, and the coat is made from some vinyl/pleather thing I cut from an old bag. Trimmed to fit, and glued on with lots of patience.
Many thanks to DCDFan, Fred Jr and the ICP guys for all their help!