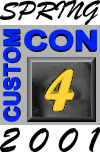 Here are photos of Wave 3 from Customcon's special showing of figures from Batman Beyond: Return of the Joker. This wave of figures was actually sculpted by Myers' Farm. This wave will feature an Elderly Bruce Wayne with knee joints, a first for Batman fans since 1984! Equally exciting is the news of the first ever "Ace: The Bat Hound" figure and single-packed Terry McGinnis in civilian attire.
Myers' Farms won popularity last year with its Super Powers Super Series, which featured all new sculpts of DC Comics Classic and Modern Heroes and Villains Subtly made with both Hasbro and Toy Biz parts.
This wave will feature all the heavy hitters from the fan-fave including Future Batman, Old Bruce Wayne (Simply refered to as Bruce Wayne) with Ace, Terry McGinnis, Flashback Batman, Flashback Batgirl, Flashback Robin, Flashback Joker and a newly sculpted Future Joker!
The series is slated to include three basic figures, one deluxe figure and two "Secret Identities" two packs featuring all new sculpts of Terry McGinnis/Batman, and Joker/Future Joker! Two playsets will also be released including a Neon Deco Wayne Manor/Batcave Deluxe Playset and a larger Batman Beyond Batcave Mega Action Playset!
Wave 3:
Basic Assortment:
-Flashback Batman
-Flashback Batgirl
-Flashback Robin
Deluxe Assortment:
-Bruce Wayne with Ace
Alter Egos 2 packs:
-Terry McGinnis & Batman
-Joker & Future Joker
Playsets:
-Neon Deco Wayne Manor/Batcave Deluxe Playset
-Batman Beyond Batcave Mega Action Playset
Flashback Batman
Flashback Batgirl
Flashback Robin
Bruce Wayne with Ace
Terry McGinnis & Batman
Joker & Future Joker
Neon Deco Wayne Manor/Batcave Deluxe Playset
Batman Beyond Batcave Mega Action Playset