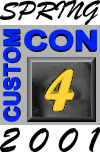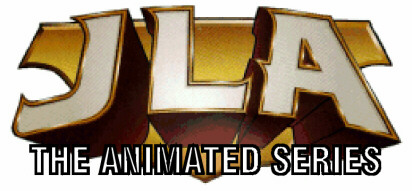 The following JLA: The Animated Series figures were designed by Matt Johnson.
Check out Matt's website!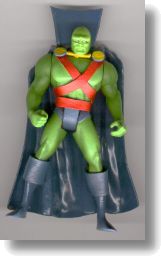 Martian Manhunter was made from a STAS Superman body, an SP Manhunter head, rubber bands for the boot cuffs, belt, and straps, and finally a Dr. Doom cape with cut Batman cape.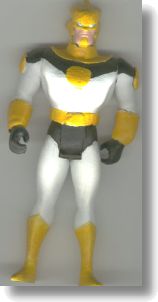 Ever since I read the Mageddon story line in JLA, I'd wanted an Aztek figure. After seeing someone on a custom website (I think you're on the Customizing list, can't remember, sorry :) ), I knew that it was a perfect idea. Aztek comes from a variant BTAS batman, just repainted. The helmet and wrist gauntlets are made from sculpey. Not my best, but I like him.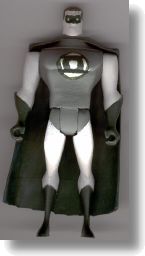 Made from TNBA Bruce head, TNBA Batman body and cape. Belt was sanded by hand, so were gloves.
The following JLA: The Animated Series figures were designed by Mark Myers.
Check out Mark's website!
Batman began as a "Sky Attack Batman" a repaint of the "Knight Glider Batman" figure. The figure's arms were replaced with those of a "Gotham Defender Batman" from the Batman Beyond Return of the Joker line. A cape was added from the Wal*Mart Exclusive "Gotham City Adventures Batman." The figure was then painted to fit his JLA color scheme.
The Flash features a "Rumble Ready Riddler" body with both head and arms recast from a Jack in the Box kids meal toy. The Riddler's head was removed, as were his arms from the elbow down. The question mark symbol was sanded down and the lower legs were smoothed over with Kneaditite. The Flash head was sanded off at the neck and was attached with Kneaditite to fit on the Riddler's body. The recasts of Flash's arms were added to the Riddler's at the Elbow and then sanded over several times to make smooth. Once smooth, boots were added, and the figure was primed, then painted. Lightning details on the arms and waist are cut printouts that were painted to match the boots and other yellow areas. The Flash insignia was also recast from the Jack in the Box toy with a Black packaging dot behind it to add depth and dimension. The Atom is the mini-Atom accessory that came with the TRU Atom figure.