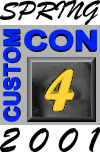 The West Wing
Must See TV has now expanded to include MUST HAVE ACTION FIGURES with the launch of the new "TV MANIACS" line of figures. And what is better for the inaugural line than an inauguration?!?
That's right Aaron Sorkin's Award Winning series "The West Wing" now expands to 3D Plastic! Now you can reenact episodes or create your own "further adventures" of the Bartlet Administration.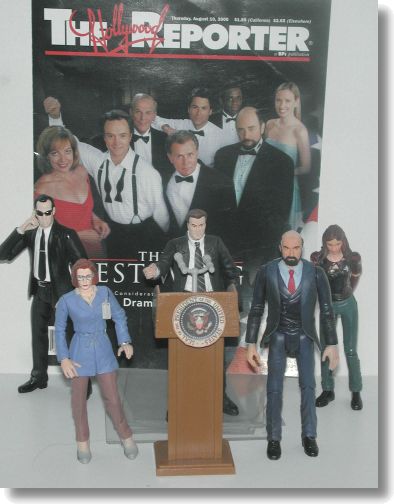 The West Wing figures were made by Julius Marx.
Zoe Bartlet- X-men Movie Rogue. This was a last minuet addition so it is not finished yet. I was in a Target and a buddy of mine that knew about this project handed her to me and asked if she would work for one of the women on the show, like one of the daughters (Leo's or Bartlet's). I painted over the streak in her hair and will eventually remove the gloves and repaint the arms. I may repaint the sweater and shorten the hair too.
Podium-is from the SNL Goatboy figure. I paid $9.99 just for the podium! What am I gonna do with a Goatboy figure?!?!? I found a .jpg of the Presidential seal and KNEW that podium would be perfect for these figures.
President Bartlet- Spawn Movie Jason Winn head dremeled off beard, X-Files Mulder Body, painted suit black.
Secret Service Agent-Matrix Agent Smith. Need to redo hair. Not much else you need to do but glue his finger in his ear.
Toby- X-men Movie Xavier, removed tie tack, sculpy beard and hair. I'll try this again with the Black suited Xavier variation.
CJ Craig- X-files Scully: repainted hair, wire glasses, repaint outfit, heavy eyeliner. Need to find a little goldfish bowl to go with her.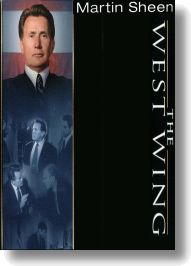 Here is a mock up of the card art I am working on.
I plan to do the whole cast in plastic, but it's tough finding figures in the same scale wearing suits. If your aren't watching "The West Wing" yet Wednesday on NBC... START! It's the best show on TV! Even it's worst episode is better than any other show out there. You'll be glad ya did!