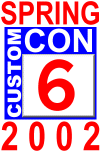 In 1972 a crack commando unit was sent to prison by a military court for a crime they didn't commit. These men promptly escaped from a maximum-security stockade to the Los Angeles underground. Today still wanted by the government, they survive as soldiers of fortune. If you have a problem, if no one else can help, and if you can find them, maybe you can hire: THE A-TEAM.
Stephen J. Cannell productions in association with TV Land and Myers' Farms is proud to announce the first line of fully articulated, television-accurate sculpts of everyone's favorite soldiers of fortune.
Featuring design, sculpting, and paint applications done in-house by Myers' Farms master sculptor "f0gh0rn", the first wave of 8" figures will include the A-Team themselves with a minimum of twelve points of articulation each!
Wave One includes:
Hannibal (George Peppard): The leader of The A-Team comes with white shoes, blue slacks, Beige jacket, ammunition belt, and M-16. The figure also includes special molded gloves that were made to hold the M-16. Not shown is Hannibal's trademark cigar.
Face (Dirk Benedict): The "Faceman" comes with removable black faux leather jacket, black shoes, baby-blue shirt, and white Khaki style pants. The figure also includes a small handgun that Face can hold! Future accessories will include numerous outfits as well as Face's famous Corvette.
Murdock (Dwight Schultz): Howling-Mad Murdock includes his trademark blue ball cap (Non-removable), brown pilots jacket, removable turtleneck, jeans, and pistol. Future accessories will include T-shirts featuring suitably random phrases like "I love Dave Spangle".
B.A. Baracus (Mr. T): Pity the fool who doesn't buy this figure! Everyone's favorite Mohawked-Mercenary includes removable black sweat pants, his trademark socks, ripped denim vest, and last but not least, his gold jewelry! B.A.'s rings, necklaces, and bracelets will have a gold-like finish.
A special TV Land and Previews shared exclusive will feature B.A. Baracus with hand painted details and a special 14K gold finish on his rings, necklaces, and bracelets. The figure will be limited to a run of only 98 pieces to commemorate the number of episodes run throughout the series. This is truly a must for any collector of 80's, Mr. T, or Television memorabilia.
The MEGO inspired figures will feature special collector friendly/character specific boxes that will allow the figures to be removed and replaced at the buyer's personal whim.
Future figures and accessories will include Amy Allen "Triple A", with News Camera, Frankie "Dishpan" Santana with special effects gear, as well as multiple costume and accessory packs to reenact the shows most memorable moments.
Just in time for the 2002 holiday season Myers' Farms will also be releasing two play- sets. The first is sure to be a crowd pleaser and will make every die-hard fan jump for joy. The A-Team Van play-set will include: working front and overhead lights, opening/closing driver and passenger doors, sliding side door with pop-out artillery rack, and opening back doors that will allow up to four figures to fit securely, for a total of room for six figures! The Van will also offer sound chip technology, which will allow the buyer to hear all of their favorite A-Team phrases and sounds. (Sounds taken directly from digitally enhanced sound tracks from original series)
The second play-set will feature an interactive government office and will include the first ever General Hunt Stockwell figure as played by Robert Vaughn! Office accessories will include breakaway desk, breakaway window, fire alarm, collapsible file cabinet and a plethora of other surprise accessories.
What's in the works for Myers' Farms for next fall? The world's most beloved cat-chasing alien, ALF, as well as revivals of other classic TV Land favorites Starsky and Hutch, and CHiP's. In the spring of 2003, the Sci Fi Channel will collaborate with Myers' Farms in it's own series of fan-favorite figures including Sci Fi series classics Planet of the Apes, and the Incredible Hulk!