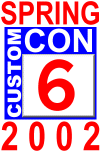 Coinciding with the finale of The Avengers: Celestial Quest saga is the release of the latest line of Avengers figures. Celestial Quest is the culmination of the story begun twenty year ago with the revelation of Mantis as the Celestial Madonna. The figures will be released in a series of two-packs, reflecting elements in the storyline. (The group shot also includes Thor, from the previous Avengers line.)
First, Cotati Swordsman, the reanimated corpse of the deceased Avenger, will be paired with his wife, Mantis, the Celestial Madonna (not shown). Cotati Swordsman is a repaint in an eerie green and features swivel wrist articulation in his sword arm, while Mantis, representing 5 aspects, comes with special fist action.
Next up are Vision and the Scarlet Witch. The Scarlet Witch is shown in her sexy Perez-designed gypsy outfit. Ex-hubby Vision comes in a classic pose. The Scarlet Witch figure has a real cloth cape.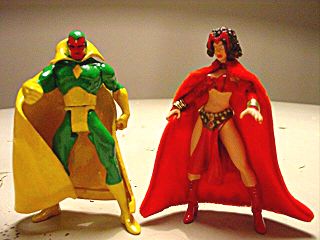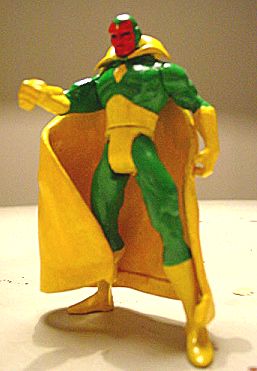 Quoi, the Celestial Messiah is paired with self-proclaimed God of Death, Thanos. To celebrate his ascension to godhood, we have covered his costume in gold foil.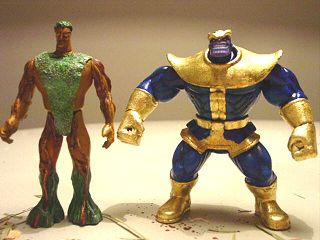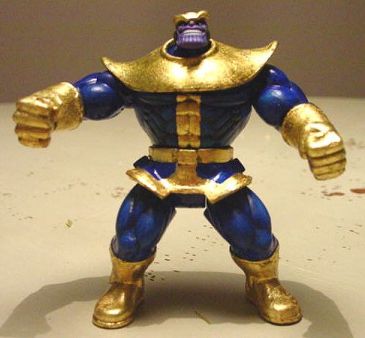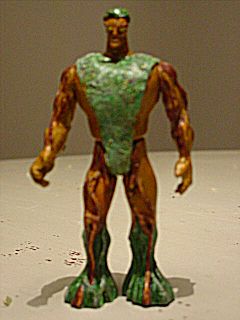 Lastly, Reptyl, the self-proclaimed God of Pirates, is matched with Silverclaw, the animal shape-shifting Avenger and daughter of a Goddess. Silverclaw is a rerelease from last year's Avengers: the Busiek Era line which debuted at CustomCon 5.