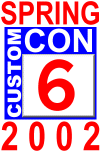 Throughout the last few years both Marvel and Toybiz have worked to produce a plethora of characters from the Marvel Universe. This year they have done it again!!! Marvel has made plans to produce it's next wave of "Marvel's Most Wanted" figures, featuring the Squadron Supreme. Having taken an extensive poll among fans, they elected to go with the Squadron Supreme in the hopes that they will hit a few more homers, like Blink and X-man, and less Spat and Grovel.
Jack "Madcrazyone" Hsu of Marvel believes that this line will fill a niche. "With this line we have produced characters that comic readers will be familiar with that are classic, yet fresh and expanding the Avengers' part of the Marvel Universe, along the lines of the Spider Man property as we have pretty much fulfilled demand with the X-men line."
Now fans have more options when posing their Avengers characters. Characters in the first wave are Hyperion, Whizzer, Dr. Spectrum, Power Princess and The Grandmaster. If things go well a second wave may be released. Plans are to either introduce more Squadron members or to introduce more characters from other universes. The possibilities are endless. There is hope for X-fans as there might be a possibility of introducing the new Exiles comic characters through this line.