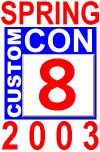 By Mattel and Strange Mark Studios
Since acquiring the DC Comics action figure license, nobody can accuse Mattel of not doing enough with it! Hot on the heals of Mattel's Justice League figures, and with new Batman, and Batman animated projects recently announced, here is Mattel's latest offering from the DC Universe...The Huntress!
The Huntress has been an integral, yet undervalued character in the Batman universe since way back before Crisis, and has even made the transition onto television screens in 1977s "Legends of the Super-Heroes" played by Barbara Joyce, and in 2002, with the WB's "Birds of Prey", played by Dark Angel's Ashley Scott. Now, after only a couple of action figures devoted to her, Mattel has teamed up with Strange Mark Studios (formerly known as Buffy.fan Inc) to bring us this fantastic range of figures solely devoted to the Huntress!
Collection One is based on the year 2000 miniseries "Batman/Huntress: Cry For Blood." In this first set of figures, we are treated to the Huntress herself, Helena Bertinelli, in her popular costume, and armed with a crossbow.
Accompanying the Huntress in this collection is Batman's sidekick, and Huntress' ally; Tim Drake, aka Robin. But unlike the countless other Robin action figures out there, here we see Tim in mid-transformation.
Rounding out this first collection is the Question, who took Helena under his wing during the Cry For Blood miniseries. Rumour has it that the Question will once again be teaming up with Huntress for a back-up storyline in Detective Comics.
All three figures are available individually carded, or in this Collectors Edition box set.