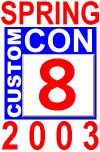 By Mattel and Strange Mark Studios
Collection Two is entitled "Batman's Daughters." As is sometimes forgotten, The Huntress started out as Helena Wayne, the daughter of Bruce Wayne and Selina Kyle, on the now nonexistent Earth 2. This marks the first official action figure of Helena Wayne!
Accompanying this Huntress is another one! When Tollins/Robbins Productions developed Birds of Prey for television, they chose to return to Huntress' pre-Crisis roots, and came up with the character of Helena Kyle, the half-metahuman daughter of Batman and Catwoman, as portrayed on our screens by Ashley Scott.
Both incarnations of Batman's daughter are available individually carded, or (as pictured) in the Collectors Edition box set.
Not available in the box set is this limited edition Spoiler action figure. Stephanie Brown AKA The Spoiler has teamed up with Helena Bertinelli in the past, and will be released to selected retailers as an exclusive addition to the "Batman's Daughters" collection.