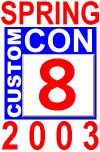 by Strange Mark.
Visit Strange Mark's web site.
7" Huntress:
For this one, I wanted to try and get the Jim Lee style, but the closest I got was Sydney Savage from Danger Girl. (Thanks to Ron Kenyon) I've seen this figure used before as a base for Helena Wayne, but never Bertinelli. The costume was all sculpted up with Milliput, and the cape is from some guy who I have no idea where he came from. To add a bit of Jim Lee detail, I gave her the boots from Fairchild.
Oracle:
Again, I wanted to get the Jim Lee style, and I was successful with this Fairchild figure from Gen 13, which was drawn by Jim Lee! The use of this base for Oracle was inspired by Leslie Hancock's fantastic Oracle, but it also came in very handy for the Jim Lee style! I cut the legs off, repositioned them, and built them back in, then sculpted her clothes, and made the glasses from wire. The wheelchair is from WWF (thanks Nick!) as it is probably the best toy wheelchair out there!