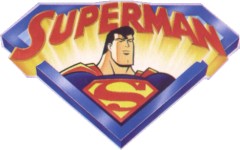 All the Superman: The Animated Series figures were made by Randy Hayes.
While Superboy didn't appear on STAS, I decided to make this one anyway. He was made from a TNBA Nightwing and a face sculpted from scratch with sculpey. I did use a base head (BTAS Dick Grayson), but I had sanded all its features down a long time ago when I was first learning to use the Dremel, so it was just a stub. The jacket, belt, and glove cuffs were sculpted with Sculpey. The S-Shield was done with a rub-on transfer, with white paint underneath to make it show up. It's a slightly different design from the SMOS Superboy, but I like it.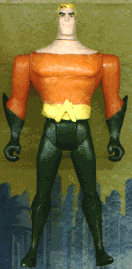 Aquaman was made from a TNBA Desert Attack Batman body and STAS City Camo Superman head. I Dremeled his gloves, face, and legs, and sanded the detail paint and belt off of the Batman torso. I added pieces of cardboard for the fins on the back of his legs (though you can't see them on the scan), and cut some plastic off of the bottom of Batman's cape to make the "A" symbol on his belt.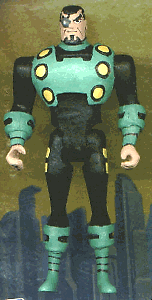 The Phantom Zone General was re-made with a TNBA Knight Glider Batman figure. The figure was sanded with a Dremel, while the eye patch, glove cuffs, boot tops, chest plate, hair, and ears are Sculpey. The rest is just paint, ink from a pen, and sealer spray.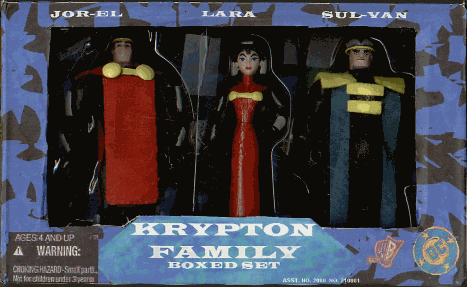 Jor-El was made using a Glider Strike Batman body from TNBA and a Superman head from STAS. The tunic is a mixture of plastic (from the Quick Change Clark Kent overlay) and cloth (the cloth has wires in it to allow for posing, say, if he were running), and the arm pads are sculpey. The yellow fasteners on Jor-El's chest are metal brads painted yellow. The headband was made from a yellow phone wire bent to shape. Superman's chin and hair were shaved with a Dremel.
Superman's mother was made from a Maiden Mulan figure, with the additional hair and headgear added with sculpey, as were the arm pads and yellow fastener. Her eyes were re-painted w/blue, and her dress was sanded and painted with acrylics. Not perfect, but fairly simple.
Sul-Van, Jor-El's father-in-law, was made from the body of BTAS Batman, with a TNBA Batman head for, well, the head! His tunic is green cloth, with the black and yellow stripes being cut pieces of felt. The headband is from telephone wire, and the hair was added with sculpey. The collar was made of felt as well.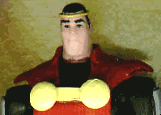 Here's a close-up of Jor-El.