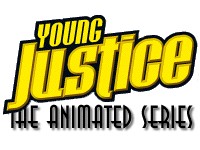 First they got their own hit DC comic, now their getting their own toy line! At the CustomCon 2000, the powers that be have announced a series of YOUNG JUSTICE action figures in the animated style made popular by the Dini & Timm's Batman/Superman Adventures.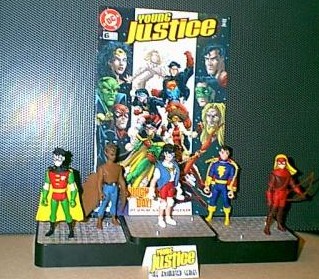 The series will be released in two waves, and will include not only the core team, but also some of their friends and a villian. Featured in the first assortment will be: (from left to right) Robin, Bat Boy, Wonder Girl, Captain Marvel Jr. and Arrowette.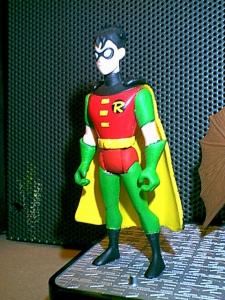 For the YJ Robin, Hasbro has re-released the original Crime Fighter Robin body with a new paint job to match his comic book color scheme.
Aaron, the Bat Boy, is Man-Bat's son. Although he has only made one appearance thus far in the DCU, he will be featured in this month's ROBIN comic book.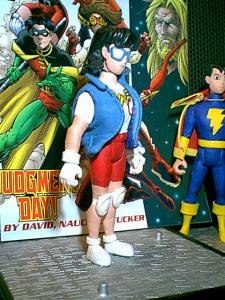 Although pictures of Wonder Girl have been shown on the net before, she looks twice as good when standing next to her teammates. Sharp-eyed viewers might notice that she has a different mouth color since the original photos were released.
This is the first time that Captain Marvel Jr. (aka CM3) has appeared in plastic before. CM3 also features another first for the animated action figure line -- a posable fabric cape. While he'll likely show up later this year in the YJ series, the company rep let it slip that this figure was from a planned boxed set of the Marvel family.
Arrowette has appeared in at least 3 different costumes during her tenure as a crimefighter. Hasbro has chosen her most recent "Red Hood" look for the YJ line.