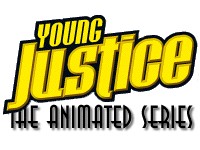 First they got their own hit DC comic, now their getting their own toy line! At the CustomCon 2000, the powers that be have announced a series of YOUNG JUSTICE action figures in the animated style made popular by the Dini & Timm's Batman/Superman Adventures.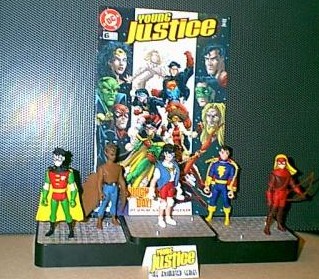 The figures on this page were made by Davy Stone and Chip Kraus.
They were all made using either the Crime Fighter Robin or the Arctic Blast Robin as a base. All were painted using acrylic craft paints unless otherwise noted.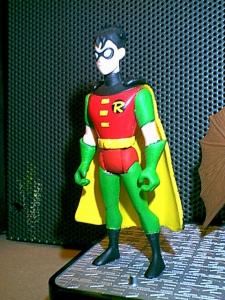 Robin was a simple repaint, with cape from some $.50 bin.
The Bat Boy was dremelled smooth, with Lockheed wings cut and glued to his arms. He was given ripped pants using plumber's putty.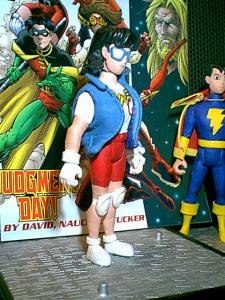 WonderGirl was dremelled down, and then an X-Man vest, X-Man knee pads, and RW Jubilee hair were added. Finally, Sculpey goggles and shoes were made.
CM3 was dremelled down, and then rubber bands were added for boot cuffs. The cloth cape has a wire sewn into the border, making it very posable.
Arrowette was dremelled down, and Majick's hair was cut downto fit her. Plumber's putty was used to make her hips a bit more shapely. A lot of rubber bands were glued on for straps. Also, sculpey was used to make her hood, and plumber's putty was used to make her boot tops.