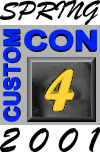 Adventures in the DC Universe
Hasbro has realized that it is time they either "put up or shut up" with DC figures. With the threat of the DC/Batman/Superman license reverting back to DC Hasbro has decided to "go out with a bang" and Give the fans what they've always wanted from the Animated line.
They will follow the model of their popular Star Wars line and break the figures up into 2 "Collections" with Collection 1 being Heroes and Collection 2 containing all villains. They will also be upping the release time on these figures like with the POTJ so new figures should be hitting each month. Some waves will contain 5 new figures and some will be drop in "case fresheners." The waves are still being decided at press time.
Collection 2: VILLAINS of the DC Universe

Now, this IS Hasbro so there WILL be some old molds and repaints sneaking into the mix, but this may be a blessing for some fans that were never able to find some of these rare pieces or didn't care for the original paint scheme. Expect to see the return of the long sought after Fortress of Solitude Superman and new variants like "Brave New Metropolis Superman" and "Knight Flyer Batman." Customizers will like this line also because we will also see the return/repaint of all of the old basic Batman Animated and Superman Animated Villains and Heroes (Joker, Darkseid, Metallo, Bizarro, Penguin...)
These will be sold under the Banner - "Adventures of the DC Universe."
I'll skip over the reissues that we have seen in previous lines (Mr. Freeze, Two-Face, Modern Lex Luthor, Catwoman...), and get to the new goodies!!
Black Adam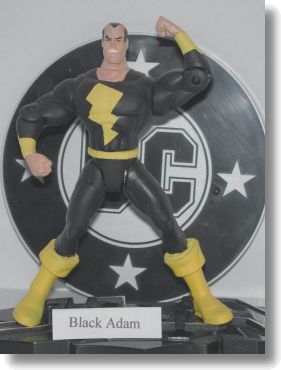 Nemesis of Captain Marvel, the Evil Black Adam is fully formed in plastic and ready to do harm to the Big Red Cheese. 8 points of articulation.
Black Manta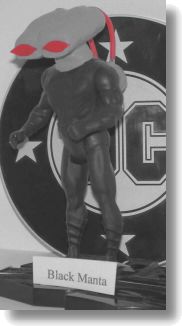 Ah, the Legion of Doom is having a reunion and Black Manta will be there (in fact, I think he's bringing the crab dip). Black Manta comes with a big-ass trident and a mini-sub. 4 points of articulation.
Braniac (classic)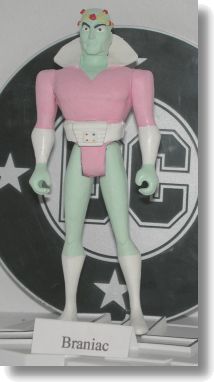 You say you like your Brainiac in all pastels and not some sissy robot from Krypton. Well, then you, my friend, are in luck. Brainiac is back with his classic look. 5 points of articulation.
Captain Boomerang
I'm not sure what branch of the service he is a "captain" IN, but I DO know that if you ask him you'll get one of his boomerang specials right between the eyes! Don't believe me? OK... Go a head and ask him... but sign this release form first, because I warned ya! Cap comes with 3 styles of boomerangs and 5 points of articulation.
Live Wire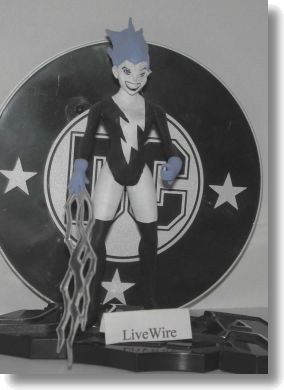 Girls just wanna have fun, and this girl's idea of fun is trashing Metropolis City property. Never one to miss a girl's night out Live Wire now joins Harley and Ivy in tearing up the joint! Live Wire comes with Snap-On electric bolts. 5 points of articulation.
Lex Luthor (classic)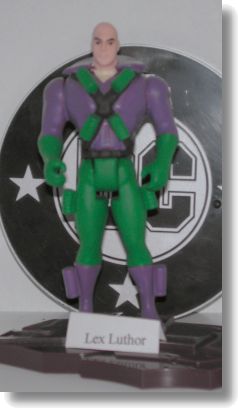 The Greatest Criminal Mind of our time ... and he'll be the first to tell you that. If the original robo-Lex drove you crazy and the corporate, President Lex is too stuffy for your tastes, return to the Silver Age when Lex was just one bad egg with a one track mind. 5 points of articulation.
Mirror Master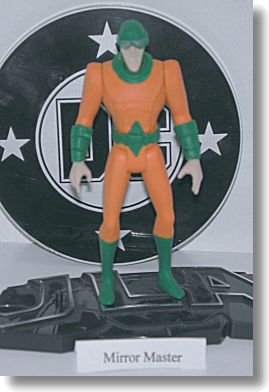 Not content to help wipe out Animal Man's entire family now he's hooked up with some of the most powerful Villains to bring down the heroes in your collection. Mirror Master comes with 2 Mirror guns. 8 points of articulation.
Parasite
Parasite sucks. Well, he does, it's his job, and if you're not careful he'll come after you!...but let's have some respect for the dead (he IS still dead right)? Now you can have your own animated style Parasite based on the Superman Animated series ready to syphon off Superman's power. 6 points of articulation.
The Shade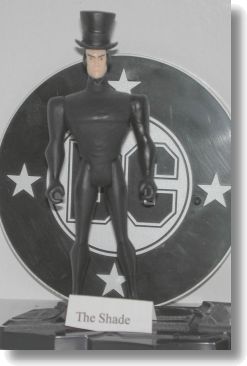 Out of the Darkness comes the Shade. Not content to torture the citizens of Opal City, now he reeks havoc on your shelf. The shade comes with 4 Snap-On "Darkness" constructs (not shown). 5 points of articulation.
Sinestro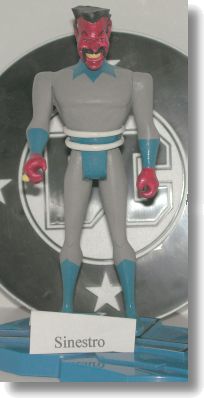 The greatest villain in the history of the Green Lantern Corps joins his brothers in plastic. Once a former Green Lantern himself, now just a wicked lookin' figure. Sinestro comes with 4 Snap-On yellow construct weapons (not shown). 5 points of articulation
Solomon Grundy
>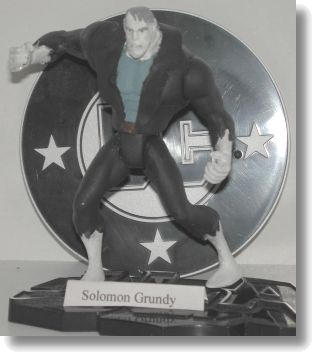 Born on a Monday.... This classic Superman/JLA villain comes to life in the animated line for the first time ever! This swamp man comes a with mini-gator and a manhole cover. 5 points of articulation.
Still on the drawing board: Heat Wave and Professor Zoom-The Reverse Flash.
Also in the line are reissues of: Manbat, Penguin, Riddler, Two-Face, Joker, Harley Quinn, Poison Ivy, Catwoman, Mad Hatter, Killer Croc, Scarecrow, Penguin, Mr. Freeze, Lex Luthor, Braniac, Metallo, Bizarro and Darkseid.