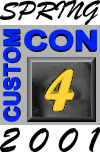 Adventures in the DC Universe
Collection 1: Heroes of the DC Universe

All figures were made by Julius Marx and General Zod.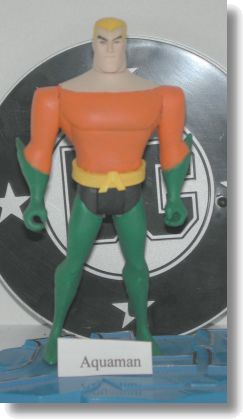 Aquaman (Classic) - By Julius: Aquaman is the body of Detective Batman and a modified Bruce Wayne head. Belt is from a rubber band. Fins are cut from a superman cape.
Aquaman (Modern) - by Zod: The modern Aquaman is a Detective Batman body. The head, arm and hook are all from the Jack-in-the-box kids meal Animated Aquaman. The fins are from a Batman cape, and the chest armor is milliput.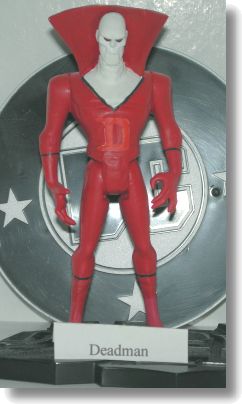 Deadman - by Zod: Body is a modified Creeper body and a new Mr. Freeze head. Collar is made from a cape.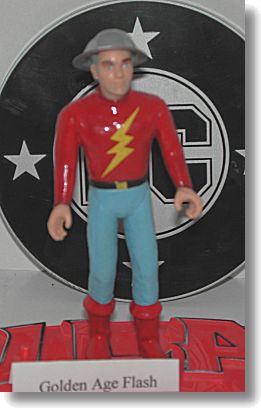 Golden Age Flash - By Zod: Is a Playmates Star Trek: Generations Dr. Soran. His helmet is made from part of a bubble from a Stargate figure package (people always ask where he got the helmet).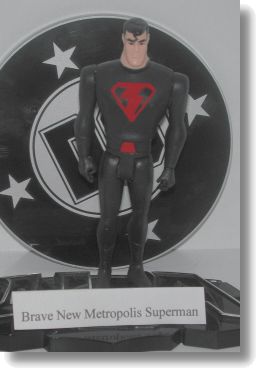 Brave New Metropolis Superman - by Julius: Head is from a capture net Superman and the body is from a Speed Racer RACER X figure.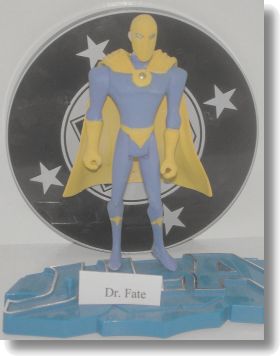 Dr. Fate - by Julius: Body is an animated Riddler. Cape is from a Superman figure. Helmet and amulet is sculpt.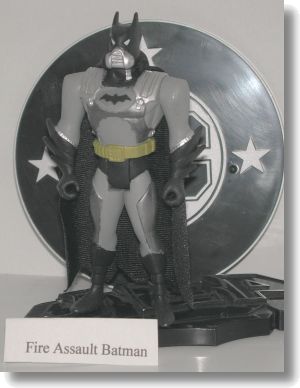 Fire Assault Batman - Is a straight repaint of the Anti-Blaze Batman. I liked the outfit, but OOoo-fa! What's with the bright red paint job? Cape is from an old Movie Batman.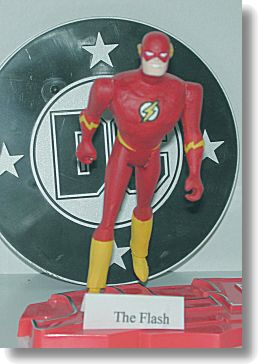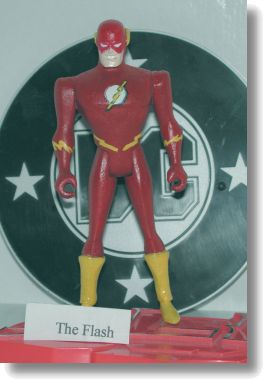 The Flash - #1 by Zod #2 by Julius. We both made our Flashes the same way. Nightwing body and Flash head from the Jack-in-the-box Kids meal pull back toy. Zod made his with the head looking up for more of a running pose. I made mine standing, looking straight ahead.
Knight Flyer Batman - By Julius: Another straight repaint. This was a great sculpt and an on model figure...except Hasbro made the Knight Glider Batman powder blue... POWDER BLUE!?!? I repainted him as he appears in the Batman/Superman "Worlds Finest" crossover.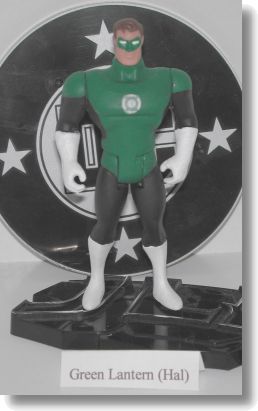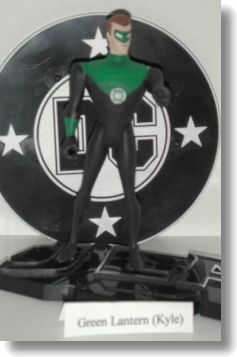 Green Lantern - both by Julius
Hal - The body is one of the repaint variants of the Combat belt Batman. Head is from the first Animated Bruce Wayne.
Kyle - No secrets here. Just about every DC Animated customizer has one of these. Made with a modified Nightwing.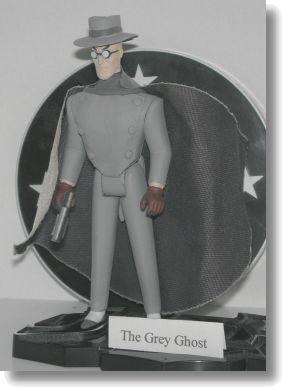 The Gray Ghost - by Julius: I think I first saw this Gray Ghost recipe from IronCow. But I don't remember where their hat or cape came from. Body is a modified Wild Card Joker, Head is from the Mission Masters Mr. Freeze. Hat and cape are from a Shadow accessory I picked up at a garage sale for $. 10. Gun is from 2-face.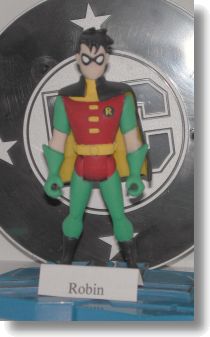 Robin (Tim) - by Julius: Another straight repaint. I liked the sculpt but wanted him to look more colorful standing next to the blue and gray Batman from the Walmart 2 pack.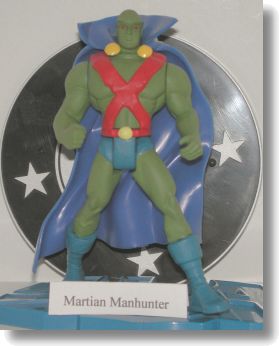 Martian Manhunter - by Zod: Superman body, Lex Luthor head, JLA Martian Manhunter cape, boots from a Hulk Doc Sampson figure. Straps are Milliput.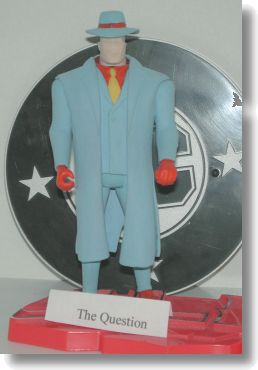 The Question - by Zod: Made from and Undercover Bruce Wayne figure. Hat is from a Shadow figure.